Parc Komo is an upcoming exclusive freehold condominium development in Singapore by one of the most renowned real estate property players named Chip Eng Seng Corporation. Chip Eng Seng is known for its high-end premium property, they have been acquiring sites for investment and development purpose which includes commercial, residential, and industrial sites. They have won the bid of the former Changi Garden of Singapore for $248.8 million and then contracted to another developer, who is CEL Real Estate development. CEL Development is working and established in Singapore for the past many years. CEL Development has already delivered many successful projects.
Parc Komo construction is expected to complete in 2023 and will also contain 2 storeys of a commercial building that have retail shops. Parc Komo will have an estimated 276 units, consists of 1 to 5 bedroom units. This exclusive freehold condominium development comprises of 11 blocks, that is divided in a mindful way like 7 blocks have 5 Storeys with residential units. Moreover, 3 blocks comprise 3 storeys with residential units and the last 1 block has 2 storeys with commercial retail units.
This new condo development will provide you with a perfect exclusive lifestyle with serene greenery among these landed houses. Parc Komo is a well-designed building, with full-sized windows that allow sunlight and a cool breeze to pass through this. The exclusive condo development is a perfect home that has a modular design according to the modern lifestyle. This place will give you a calm and tranquil environment to enjoy the greenery.
Parc Komo Location
Parc Komo a mixed development is located in District 17 of Jalan Mariam at the junction of Upper Changi Road North, which is close to Hedged Park Condominium, Palm Isles, and Parc Olympia. It is situated near Changi airport and covers the area of 200,093 square feet. There are no MRT Stations available next to Parc Komo residences, the close one is the Tampines East Station which is like 27 mins walk from the site. The public transport like bus, the train will take you to the station, which is 3 to 4 stops away via Flora Road.
If you are looking for an affordable and serene environment then this place is for you, especially for those who are working near this area such as Changi Business Park, Tampines east, and the airport staff. This location is best known for its serenity and greenery along with several amenities that serve residents in many ways.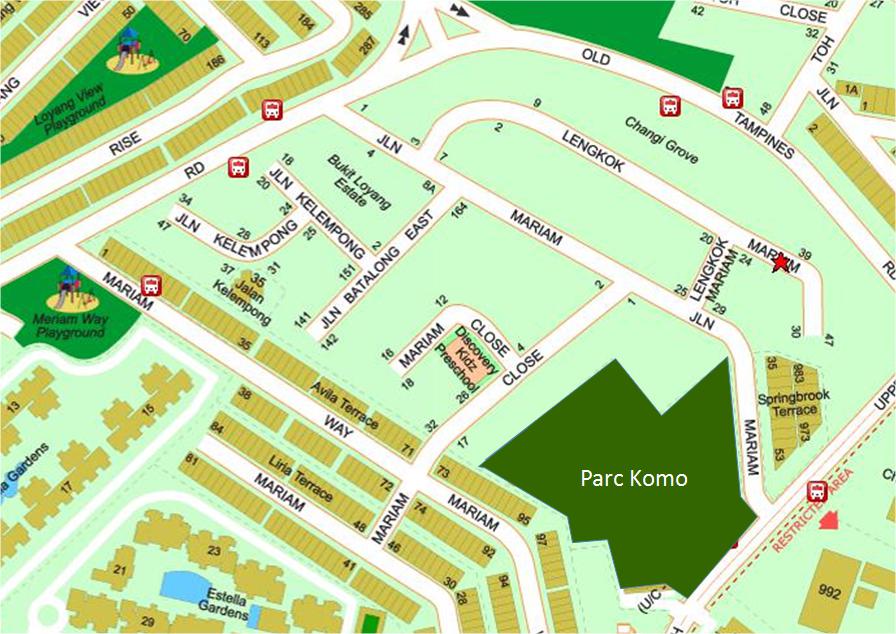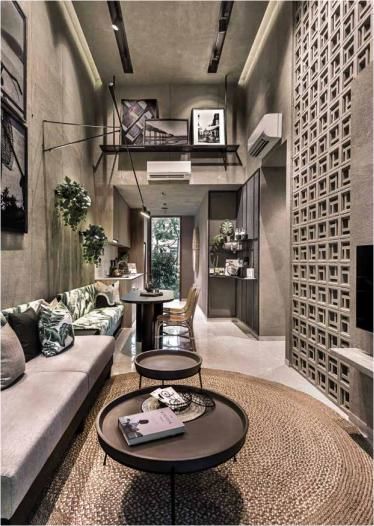 Parc Komo Project Details
• Project Name: Parc Komo
• Developer: CEL Real Estate Development Pte Ltd
• Tenure: Freehold (Estate in Fee Simple)
• Plot Ratio: 1.4
• Address: 32 – 62C Jalan Mariam, Singapore 509332
• District: 17
• Total Units: 276 Exclusive Units+28 retail shops
• No. of Blocks/Levels: 7 Blocks, 5 Storey Residential
• 3 Blocks, 3 Storey Residential,
• 1 Block, 2 Storey Commercial
• Car Park Lots: 276 Residence lots + 3 accessible lots
• Expected TOP Date: 4 June 2023
• Site Area: 200,093 sq ft
• Architect: Park + Associates
• Landscape Architect: Salad Dressing
Parc Komo Amenities and Conveniences
• The nearest major shopping centers have less than 12 minutes of drive to this exclusive condo development are Changi City Point, Bedok Mall, East Point mall, White Sands Shopping Mall, Loyang Point, Elias Mall, Katong Shopping Mall, My Tampines Hub, Jewel Changi, Tampines One, Tampines Mall, Asia, Century Square and Downtown east. These are the places where you can get several amenities such as groceries, eateries, shopping, banks and many other retail shops. Parc Komo residents can enjoy proximity to several more amenities.
• The residents of this condominium development have proximity to many prestigious educational institutes and schools such as the Japanese School Singapore Changi Campus (elementary and junior high school), The White Sands Primary School, The East Spring Primary School, and East Spring Secondary School, the Pasir Ris Crest Primary school & Secondary School, White Lodge Kindergarten Upper East Coast, Meridian Secondary School, Dunman Secondary School. This is one of the primary amenity that is beneficial for parents as well as for their children to study in a well established and well-groomed school of their choice.
• The closest MRT Station is Tampines East MRT Station. The Parc Komo residents can travel all around Singapore through Tampines Expressway (TPE) or Pan Island Expressway (PIE). The other transportation hubs in this area are Bayshore MRT, Bedok Reservoir MRT, Marrine Terrace MRT, Pasir Ris East MRT, Loyang MRT Station, Sungei Bedok MRT Station, and Tanah Merah MRT.
• Proximity to business cluster and other well-known employment centers such as Tampines Regional Center, Changi International Business Park, Singapore Expo Convention & Exhibition Center, and Singapore University of Technology & Design. In addition, there is the Changi International Airport that has several employment opportunities.
• Parc Komo exclusive condo has Proximity to many leisure and recreational places as well such as Aranda Country Club, Changi Point Coastal Walk, the Heartbeat at Bedok, Johore Battery, National Seiling Centre, and Singapore Expo. These places offer lush green views of nature parks and natural reserves. This area is a quiet, calm, and tranquil environment to laid back and enjoy nature.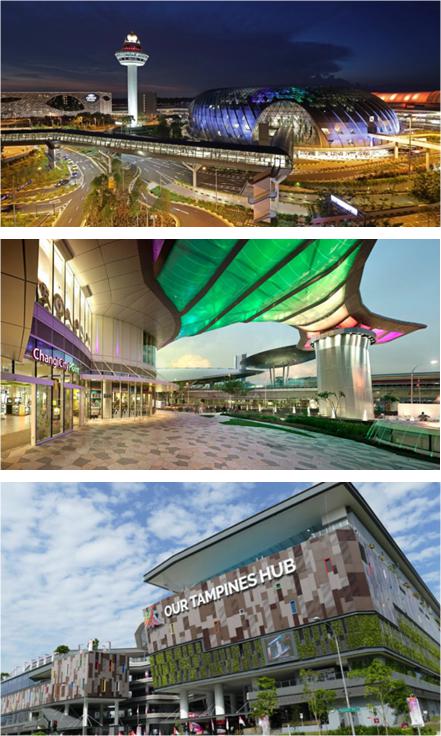 • The proximity of Parc Komo Upper Changi Road to several renowned supermarkets such as Giant (Loyang Point), Sheng Siong Hypermarket (Loyang Point Complex), Giant (Tampines Mart), Valley Grocer, Changi Friendly Store, and NTUC Fair Price.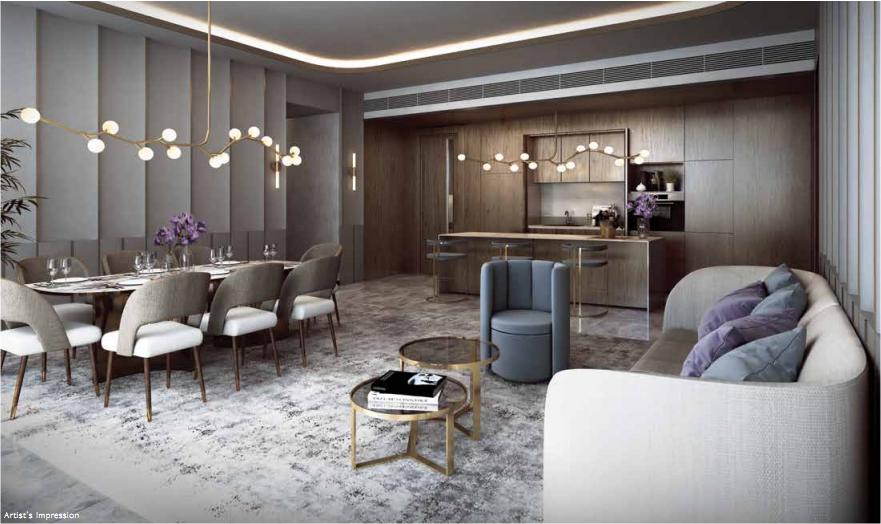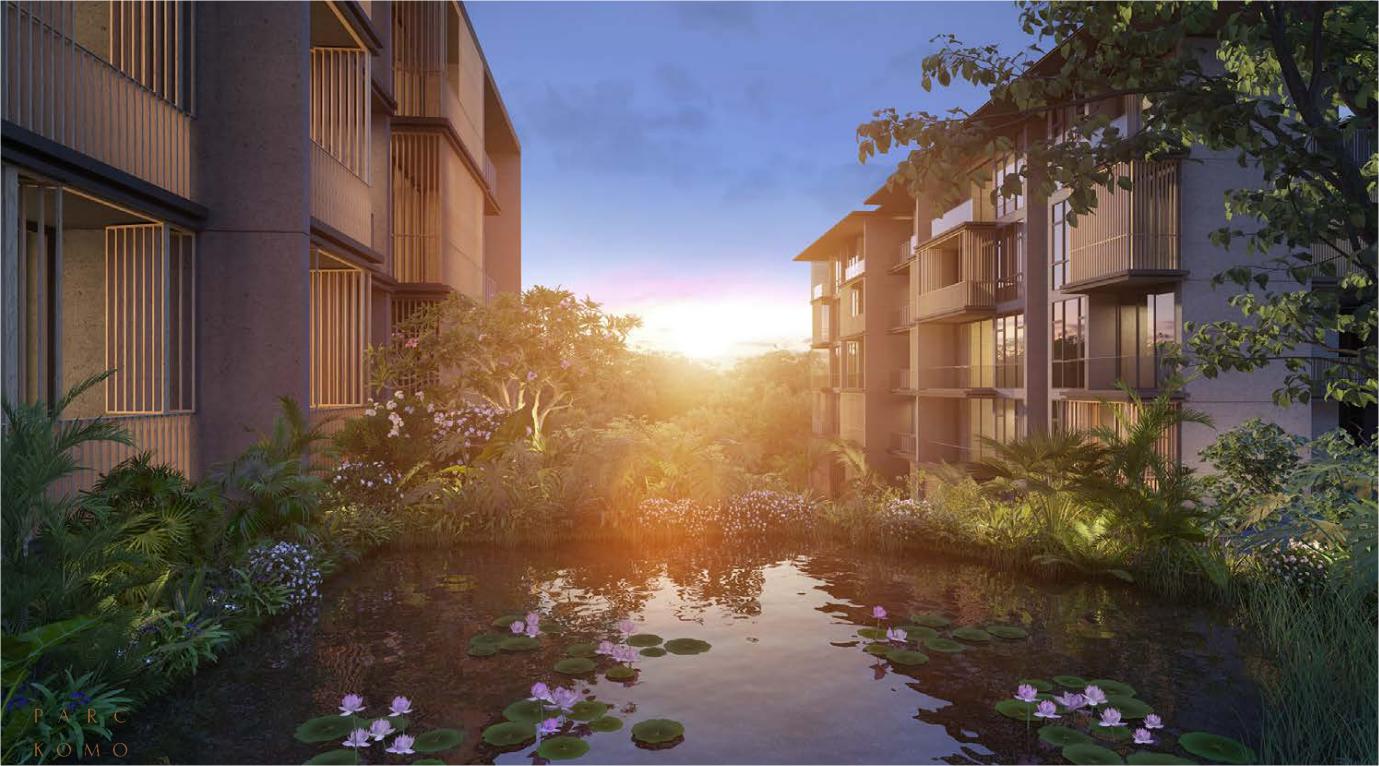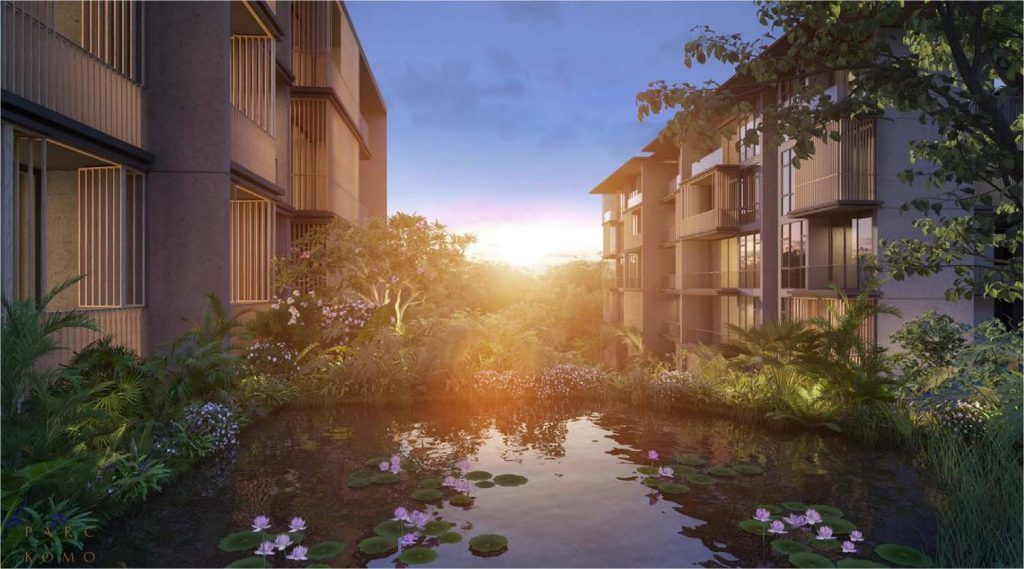 Parc Komo Facilities
• There are 24 hours of strict security with modern security systems.
• Car Park facility is available in the basement for residents.
• Wide and clean swimming pools are available for kids, adults, and families.
• Retail shops are available within the vicinity.
• Kids playground and lush green gardens are a key attraction.
• Communal hall facility is also available.
• Party Pavilion is available for parties with family and friends.
• Sun Deck and Yoga Deck facility for residents.
• Separate Barbeque area to spend leisure time with your family and closed ones.
• Meadow and Swing Garden to laid back and enjoy the calm and serene nature around.
• Alfresco Terrace is also available to enjoy the lush green site views.
• Morning Garden & Midnight Garden to enjoy the cool breeze.
• Moreover, modular layout and spacious kitchens to give a luxury look.
• Cleaning services are also available to enjoy a luxurious lifestyle.
• Gymnasium and fitness deck is installed for residents.
• Study lounge facilities to enjoy reading in a peaceful environment.
• Parc Komo condo development has a bundle of more facilities for living a desired life.
• The Parc Komo management office facility is available 24/7.
• Parc Komo Drop off facility for all.
• Aqua Lounge for residents of Parc Komo condo development.
Why choosing Parc Komo:
• It is situated in a prime location near to the Singapore University of Technology & Design.
• Parc Komo condo would be a very efficient and profitable investment, as it has affordable prices and a freehold residential development.
• It is a mixed development with a commercial space area of an estimated 3000 square meters.
• Many reputable schools and other educational institutions are nearby like the Japanese School Singapore Changi Campus (elementary and junior high school), White Sand Primary School, The East Springs Primary and Secondary School.
• Proximity to various renowned shopping centers and supermarkets such as Changi City Point, Bedok Mall, East point mall, Valley Grocer, Changi Friendly Store, and NTUC Fair Price.
• Close to business hubs such as Changi Airport, Tampines East, and Changi International Business Park.
• Pasir Ris Park in the vicinity to enjoy nature with family and friends.
• Parc Komo has easy accessibility to CBD, Orchard Shopping Belt, and Marina Bay Financial Center.
• This condo has an extensive layout that is designed for both individuals and families.
• It is developed by very reputable developers Chip Eng Seng and CEL have a strong real estate development background.
• There will be no investment cost in the future.
• It is an exclusive condominium development with 276 units of a different style.
• Lush green view and exclusive resort-type lifestyle with a large number of facilities.
• Moreover, this condo offers all basic facilities as well as luxurious facilities.
• It is situated in a low-density area covered with lush green trees and surrounded by landed houses.
• This condo is 5 to 7 minutes drive away from Changi Airport and Jewel.
• Proximity to upcoming Loyang MRT Stations a cross-island line.
• Delegate and modern interiors with quality fittings and finishing.
• Smart Home Appliances system in every unit.
• Proper lighting and ventilation system.
• To live in such an area with great infrastructure and satisfying per plot ratio can add up the value of owning such property at upper Changi road.
• This development on Upper Changi Road is one of the rare freehold new launches.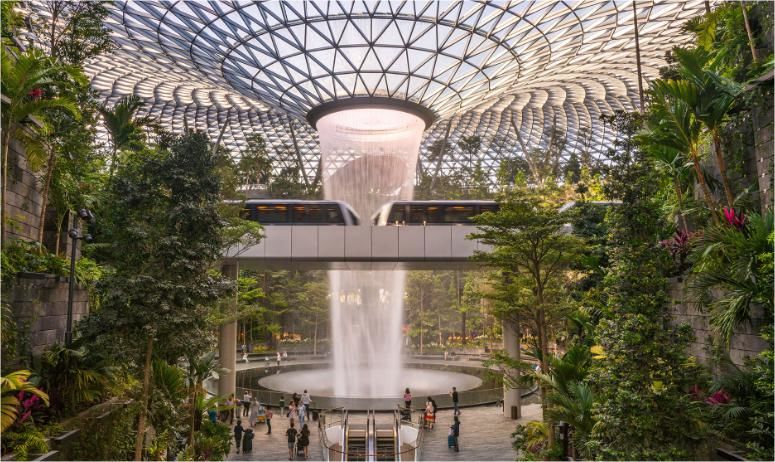 Explore Changi:
Changi is a place where you can enjoy beachside locale and lush greenery, which is full of life. Long extensive roads like upper Changi road will take you around Singapore's adventures old trees and its surroundings. Parc Komo the exclusive Condominium is is situated at upper Changi road The landscaping of Parc Komo and Komo shoppes are inspired by the Kampong style.
Changi Village Hawker Center is one of the best places for food in Singapore. This place will give you the taste of heavenly meals.
Changi Sailing Club is a place for sailing boats and yachts, to enjoy watching them sailing.
The Changi Museum is a historic place where you can learn about the history of Singapore.
Coastal Park Connector is a connector that runs along with the Changi Airport's runway to enjoy the landing and takeoff views closely.
Loyang Park Connector is a point where you can start a bicycle tour to Changi upper road, there are two entry points along with park connector.
Komo shoppes offer a mix of F&B, retails, and many wellness options. It is connected with Changi's lifestyle hub, which is Parc Komo at upper Changi road
Parc Komo Unit Mix
As we all know that this condo development is not completed yet so any change can be expected, therefore expected unit mix is given below;
Units Type Unit Size (sqft) No. of Units
• 1 Bedroom 452 – 484 ( 30)
• 1 Bedroom + Study 538 – 549 (10)
• 2 Bedroom Compact 614 – 657 (24)
• 2 Bedroom Deluxe 700 – 775 (78)
• 2 Bedroom Premium 926 (2)
• 3 Bedroom Compact 915 – 980 (26)
• 3 Bedroom Deluxe 969 – 1,023 (55)
• 3 Bedroom Premium 1,119 (1)
• 4 Bedroom Compact 1,281 – 1,302 (10)
• 4 Bedroom Deluxe 1,410 – 1,421 (20)
• 5 Bedroom 1,808 – 1,905 (20)
Parc Komo Price Range
The expected price for this new exclusive condo at the Upper Changi road area of 200,093 sq ft is ranged from $1350 to $1400 psf. The Parc Komo Price estimates for residential units are given below;
Unit Type No. of Units Prices
• 1 Bedroom (30) Sold out
• 1 Bedroom + Study (10) from $881k/ $1.017M
• 2 Bedroom Compact (24) from $946k
• 2 Bedroom Deluxe (78) from $1.046M
• 3 Bedroom Compact (26) from $1.413M
• 3 Bedroom Deluxe (55) from $1.458M
• 4 Bedroom Compact (10) from $1.891M
• 4 Bedroom Deluxe (20) from $1.965M
• 5 Bedroom (20) from $2.558M
Parc Komo floor plan is created in a very unique way and all the basics are also kept in mind while creating. This exclusive condominium will be one of the highly demanded developments in the near future because of the developing amenities in proximity and other facilities. The value of Parc Komo will increase further and it will be a profitable investment for owners. parc Komo will be your smart home with latest modern technology.
If you are looking for private space in the lap of nature then this place is just right for you, it has all those features that you need to live an exclusive lifestyle. Parc Komo will be ready soon to meet your standards of living. It will be your sweet home with extensive facilities to laid back and enjoy along with glorious nature views.
Parc Komo showflat appointments will be booked soon once it is ready to show. Stay tuned for all the latest updates regarding this latest upcoming freehold condominium.